Come check out our new location
142 Remington St
Next to the Old Town parking garage and across the street from Equinox Brewery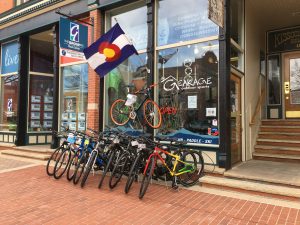 The Gearage is your local source for quality used outdoor gear and clothing in Fort Collins, CO. We offer affordable prices as well as a marketplace for people to pass along gear they no longer need. We are also a premiere Bike Shop!
It is our philosophy that we should tread lightly on the environment. Reusing equipment, Reducing the need for more production. And Recycling gear back into the hand of the community.
Purchasing outdoor gear/clothing should not break the bank. The average outdoor recreationalist does not always need the latest and greatest gear and many prefer to purchase pre-owned clothing and equipment. That is what we are about.
Our goal is to continue to grow a successful business centered on a passion for outdoor recreation, the environment, and our community. We are a leader in customer service that fosters a loyal customer following in all aspects of our business.
Our focus is on the highest quality camping, hiking, cycling, climbing, winter, and water sport gear. We sell a variety of new and used outdoor gear including tents, backpacks, clothing, footwear, bicycles, kayaks, skis, snowboards, snow shoes, cross country skis and more. We are also a premiere Fort Collins Bike Shop! Our inventory changes weekly so you never know what you might find!